Published on vancouver.mediacoop.ca
Thousands march against Vancouver mining company in Thessaloniki and Athens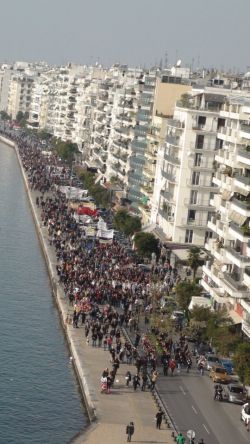 by Maria Kadoglou
THESSALONIKI—A huge demonstration against the construction of gold mines in northern Greece took place in the city of Thessaloniki on November 24. Around 8,000 protesters from the areas of Halkidiki, Thrace and Kilkis, along with people from Thessaloniki and solidarity groups marched along the main streets of the city center chanting slogans against the plunder of their lands for mining development.
Protesters at the head of the march carried branches of trees and tree trunks on their shoulders, representing the "funeral or the forest." At Skouries, Halkidiki, a unique ancient forest is in the process of being cleared to make way for a massive open pin pit mine by Hellas Gold, a subsidiary of the Vancouver-based Eldorado Gold. Peaceful demonstrations by the local people have been violently repressed by riot police, with charges pressed against protesters for rebellion against the state, a charge not utilized against activists in Greece since the military junta of the late 1960s. Eldorado Gold is either directly or indirectly involved in all gold mining projects proposed in Greece.
Saturday's march in Thessaloniki headed towards the Canadian Consulate, which was heavily guarded by riot police. Only a small delegation of the Coordinating Committees against Gold Mining was allowed to pass in order to deliver a letter to the Consul, stating the resolve of the local people to fight destructive mining projects and preserve the environment, which is the basis for their livelihoods. The Consul did not appear and the letter was posted at the entrance of the consulate.
This march was one of the largest and most dynamic actions that has yet taken place in Thessaloniki. It was dubbed "the invisible march " by protesters because it was not covered by any of the mainstream media, which promote corporate interests. It was the first joint protest of all areas of northern Greece threatened by gold mining, as well as the first to take place in a large city.
Opposition to large-scale mining projects which are being approved without proper consultation with the people that will be immediately affected is growing despite economic hardships in Greece.
Some of these projects were proposed as long as 15 years ago but were cancelled thanks to the resistance of the local people and favorable rulings by the State Council. Now, government officials and corporate propaganda claim that open-pit mining is the only way out of recession in Greece. This view is contested by local people, who point to the damage this kind of extraction will inflict on other economic activities, primarily agriculture, livestock, forestry, fishing and tourism, all of which depend on a healthy environment, free of contamination. Ιn crisis-ridden Greece, anti-mining struggles in the north of the country continue to stand out as a paradigm of community-led, grassroots resistance for the protection of land and the environment against the aggression of foreign corporations.
Also on November 24, a parallel protest action took place in Athens, where a group in solidarity to the people of Halkidiki placed "Eldorado Gold go home" banners and chopped wood under a placard saying "the remains of a forest" outside the Hellas Gold and Eldorado Gold headquarters.
More photos from the demonstration in Thessaloniki: http://antigoldgr.org/blog/2012/11/24/kideia-tou-dasous/
Video: http://www.youtube.com/watch?feature=player_embedded&v=RN34QLdI3a0
More photos from the action at Eldorado Gold's headquarters in Athens: http://www.left.gr/article.php?id=14426
Video: http://www.youtube.com/watch?feature=player_embedded&v=bIySfhHZIms
Ηellenic Mining Watch website (in Greek): http://antigoldgr.org/blog/
The letter that was delivered to the Consul of Canada follows:
____________________________________
To:
Mr Petmezas – Honorary Consul of Canada in Thessaloniki
CC:
Mr Peck – Ambassador of Canada in Athens
Τhe Committees for Struggle against gold mining from Halkidiki, Thrace and Kilkis address you, the Consul of Canada to Greece, to state the following:
We have gathered in Thessaloniki on November 24, 2012 to protest against the plunder of northern Greece by extractive industry corporations which are taking advantage of the financial crisis to unsustainably exploit our land and resources without our consent. Large-scale gold mining projects which have been bitterly opposed by the local communities for over 15 years, as well as new projects, are now being promoted as the only solution to our financial problems. The plain truth is they will add almost nothing to national coffers, while leaving behind irreversible damages to the environment and communities.
In all of these projects, one Canadian company is directly or indirectly involved. Vancouver-based Eldorado Gold Corp. owns 95% of the "Cassandra" mining complex in Halkidiki as well as 100% of the Perama project and 20% of the Sapes project in Thrace. The exploitation of goldmines in the area of Kilkis has been awarded to the Greek construction company AKTOR SA, Eldorado's partner in the development of the Halkidiki project.
Several years ago, all three of the Halkidiki and Thrace projects were blocked as a result of the resistance of local communities. In Thrace, all the municipal councils as well as the Regional Council of Eastern Macedonia and Thrace have repeatedly decided against this destructive type of development and against the Perama and Sapes projects. The Ambassador of Canada has been informed of these decisions by both the elected leader of the Regional Administration of Eastern Macedonia and Thrace Mr Giannakides and by the Mayor of Alexandroupoli Mr. Lambakis, when he visited Thrace in March 2012. The views of the local people and their elected representatives have been totally ignored by the central government and the licensing process is moving fast.
In Halkidiki Eldorado's massive mining project has been approved after a nominal public consultation process – and without thorough consultation with the local people – in violation of both Greek and EU law. Clearing the area of its unique ancient forest has already began and is rapidly progressing. Peaceful demonstrations are being met with extreme brutality by the riot police, which protects the interests of the Canadian company against the Greek people. Human rights violations taking place in Halkidiki have been highlighted by Amnesty International in its October 2012 report on police violence in the EU.
Repression and attempted criminalization of our protests do not curb but only strengthen our resolve to fight for the protection of our land, our water, our lives and the future of our children.
Local communities in Greece base their survival on agriculture, livestock, forestry, fishing and tourism, all of which depend on the natural environment. The dangers to water and other valuable resources by large-scale mining activities have been well documented by a number of independent experts and scientific committees (Technical Chamber of Greece, Department of Central Macedonia – Faculty of Agriculture, Aristotle University of Thessaloniki – Environmental Council of the Aristotle University of Thessaloniki – Department of Tourism Management, Alexander Technological Educational Institute of Thessaloniki, among others). Their findings strongly contrast those of scientists involved in the Environmental Impact Study – a study compiled by and paid for by the mining company itself – nor can we place our trust in incompetent state agencies to enforce environmental laws.
Large scale gold mining as proposed by Canadian corporations will bring about not only environmental destruction but also social , cultural and economic degradation.
Furthermore, we are aware of the harm and devastation that has been caused by similar projects throughout the world where, sadly, Canadian companies are also involved.
Mr Consul,
We consider Canadians to be a democratic people and believe they would be appalled at the fact that Canadian corporations are pushing for implementation of such destructive mega-mining projects against the will of Greek people.
Despite what government and corporate propaganda will have you believe the vast majority of the citizens in Halkidiki, Thrace, Kilkis is against this type of mining projects. Resistance is gaining momentum despite economic hardships. We know that if Greece is to have a future after the economic crisis is over, we have to preserve our environment and not destroy it forever for short-term economic benefits.
We say emphatically no to large-scale gold mining, yes to life. We put people before profit and unite our voices with all the people of the world who are fighting against similar destructive mining projects. We are struggling for land, freedom and dignity and we will persevere to the end.
We ask you to investigate the practices of Canadian mining companies in Greece. We ask you to inform the Canadian public and investor community about the strong opposition of local communities to destructive mining operations planned and performed by Canadian companies in Greece. As your experience will tell you, no project can proceed and operate if it is not welcome by the local people.
Coordinating Committees against gold mining
Halkidiki [email protected]
Kilkis [email protected]
Evros – Rodopi [email protected]